A quarter of a century, 25 years, 9,125 days, 219,000 hours. Yonks ago? Probably for ordinary people, but not for us "lleidaneters", for us is as if it was … yesterday.
It is now 25 years when three friends and I decided to create what eventually was the first Internet service provider in Spain,  then chats, SMS and electronic certification services.
You might wonder how a company reaches its silver wedding. It's as sophisticated and simple as keeping innovation, taking on new challenges daily.
And we have come this far, thanks to everyone's efforts. Companies are made up of people and that is why  I would like in particular to stress the role of all those fellow workers who,  during these 25 years, have made this pocket multinational to be found  in almost any pocket of the world. I would like to extend my thanks to all the staff
To those who started and who are still here (me included); to those who decided to start all over again and to get the chance to start afresh, to the newbies, who keep the flag waving taking forward all the projects and naturally to those who for whatever reason are no longer to with us.
It goes without saying that each of you are the main players of the history of Lleida.net, and I am pretty sure that Lleida.net is also a slide of your personal history.
Many thanks to all of you. More is to be done together. Yes, let's get together another 25 years!!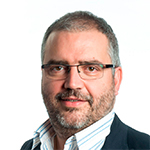 Sisco Sapena
Chief Executive Officer
He studied Technical Agricultural Engineering, specialising in Horticulture and Gardening at the University of Lleida and post graduate in Telematics at the UPC. In addition, he is passionate about the internet and the new technologies. For 9 years he was IRC Chairman and he became one of Spain Internet pioneers.
At present he is Chief Executive and main Shareholder of Lleida.net. He is, without doubt, the Alma mater of the company. His curiosity and boundless creative spirit remains intact as an entrepreneur. Sisco takes Lleida.net around the world. He spends more than 150 days away from home and has visited over 40 countries in the last 5 years.