Lleida.net is a telecommunications' operator, a multinational company listed in the secondary Spanish  market. A company that offers the necessary tools and processes for online contracting to all companies that need to provide services through the network, such as all fintech and insurtech who have participated in the FinTech Unconference.
Lleida.net has had the opportunity to meet many of its customers and friends together and to showcase them our new services and methodologies, to explain the latest trends not only here in Spain but in other countries too.
Currently, we are an operator in 5 countries, with branches in 10  and operating in 18. Our experience as a listed company could play a significant role to all companies  here.
We have created and developed Platform4Equity. It represents Media4Equity next step (I give you commercials in exchange for shares). Platform4equity provides you with the necessary tools for your onboarding processes. We help you to optimize all those processes requiring a little experience to improve the value of your fintech and therefore gaining more success in the market.
We are a seasoned company established 22 years ago. It is quite unusual to meet veteran companies within these forums, but our ability to adapt to the environment has let us to continue to be providers , not Internet providers as 22 years ago, but providers of certified technological solutions and online contracting processes.
Fintech and Insurtech companies need these solutions for their contract processes , to have clients, to be able to offer new services and to be able to expand, not only in Spain, but also at a global level.
We, being small pocket multinational, bring experience to companies that, in many cases, are beginning to emerge. For better or for worse, we have seen how many companies were born, and we are proud to be one of the few companies who remain unchanged, same name, led by same people, growing, and expecting to grow even  more .
We want to go further. When I was a student, I had a bag full of goose eggs. I was given grades of "zero" for work I failed to do. Now it's time to remove them from the bag and to add them to the business figures, so that we can keep on growing.
The best advice Lleida.net can give to start up fintech companies is not to get obsessed about money, and to live with what they are able to generate. The paradigm has changed, we are going back to year 2000 where you were worth not for how much money you were able to generate.
What a company listed in secondary markets is telling you  is that if you are not able to generate to live,  then you will not live too long to tell. "Make a living by what you get"
It takes a long time to convince people to invest their money in your company, is not all that easy.
Crowdfunding may be not enough. Create your own business model, validate it with your own money, be able to generate something and then it will be easier to obtain funds and therefore to grow.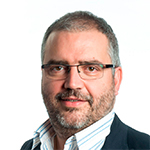 Sisco Sapena
Chief Executive Officer
He studied Technical Agricultural Engineering, specialising in Horticulture and Gardening at the University of Lleida and post graduate in Telematics at the UPC. In addition, he is passionate about the internet and the new technologies. For 9 years he was IRC Chairman and he became one of Spain Internet pioneers.
At present he is Chief Executive and main Shareholder of Lleida.net. He is, without doubt, the Alma mater of the company. His curiosity and boundless creative spirit remains intact as an entrepreneur. Sisco takes Lleida.net around the world. He spends more than 150 days away from home and has visited over 40 countries in the last 5 years.