Last Thursday,27 February, and coinciding with the last day of  Mobile World Congress,  4th ESO INS Ronda Lleida students, aged 16, participated in a gymkhana going through the city and passing different tests with the only help of their mobiles.
The project, called Món Mòbil (Mobile World) arose two years ago where the teachers and project coordinators, Anna M. Aznar and Angels Urdániz, decided to promote the educational use of mobile phones among students and make them know the city they live in.
The gymkhana was a total success as we could see on the screen during the award ceremony. Students had a lot of fun solving tests, taking selfies, singing songs, reading QR's …
But the gymkhana has not only been welcomed among students. Those activities together with other 72 projects in Catalonia were submitted to the Mobile Learning Awards 2014 in order to promote educational use of mobile devices,INS Ronda being one of the 7 finalists.
The award given by Lleida.net needed to be both didactic and technological, and e-readers meet both requirements. E-readers were given to the winning girls Maria Alamon, Anna Roigé and Laura Motos.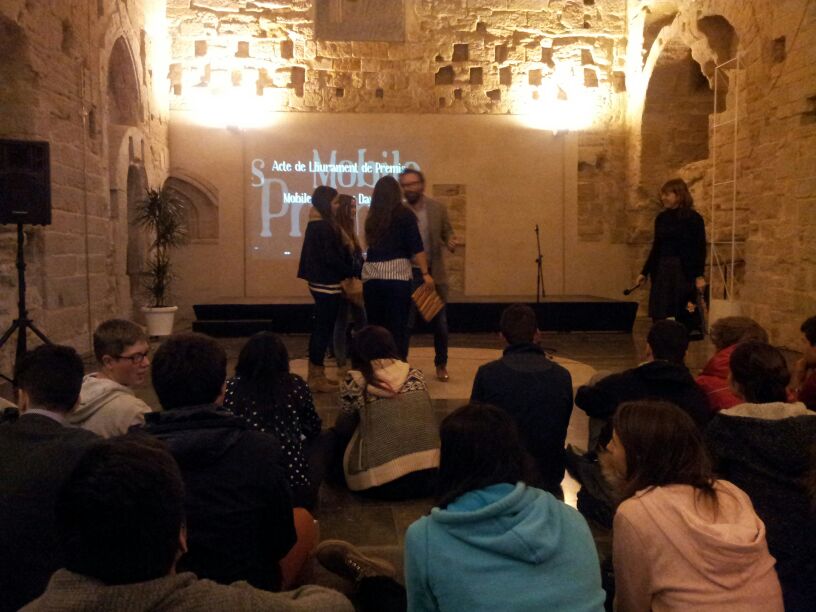 With these objectives in mind we decided to collaborate with the initiative: to use mobiles as teaching tools, teaching its uses applied to social networks, motivating students to know their city and get on with the use of mobile and applications.
Mobile World Congress has also room for young people, and we were looking to be part of it.