Sadly, Mobile World Congress is now over. This year's mobile show in Barcelona, Spain was one of the busiest shows in recent years. Over 85,000 attendees eagerly looking for the latest techs trends, four non-stop days, from 9 to 19h.
Unfortunately we could not attend all 85,000 attendees, but those spending their time with us, and being interested in our solutions lead us to a greater exhibition. Thanks!
Weeks before the MWC we scheduled 60 more meetings compared to the previous year and during the Congress we increased contacts and visits up to 30%.
Mobile World Congress (MWC) the most important mobile telephony trade fair worldwide, is the place for mobile leaders to gather and it is the place where our four business lines ( registered electronic communications, unregistered electronic communications, data validation and services for telecommunication operators) catch the attention of attendees and passers-bys. The international dimension of the event helps us to strengthen international contacts and to reconnect with our partners and workmates who are in any of the eleven countries where we are located.
Mobile World Congress brings big announcements and so we do. We announced three new services: E-mail contractl, Stamp ID and Stamphoto.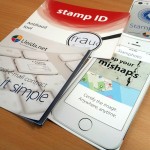 With e-mail contract we continue working to seal contracts successfully, quickly and easy. Stamp ID jeopardizes identity fraud and brings security to contracts, commercial transactions, etc Stamphoto puts within reach of anyone, taking pictures with mobiles and adding value as documentary evidence.
Each of the solutions has had its audience, many have seen how to combine different solutions to suit their business needs and to reduce management costs and consumables, as well as providing security to their usual processes.
The Show is over, but we kept the good times we have shared with you.