On 18 & 19 October, Sisco, Jordi and myself attended  FinDEVr Sillicon Valley 2016, a fintech event for developers. At this event, companies share ideas, unveil new products, showcase code, outilne the novelties for the incoming months or consolidate new ones.
An event awash with buzzwords like Big Data, IoT (Internet of Things); BlockChain, APIS, Opensource, Biometrics …
An unbeatable scenario, where once upon a time, towards the end of the 1950's, germanium was no longer used as material in semiconductor devices, and silicon became the preferred one. A place where ideas, companies and dreams were born and  fulfilled. Let me mention a bundle of companies, none of you may be familiar with: Intel, Google, Cisco, or Tesla.
A place where some of the best US colleges, like Berkeley or Stanford are found, and where notable alumni like Larry Page CEO of Google, Steve Ballmer CEO of Microsoft or John F. Kennedy, President of the United States of America, studied.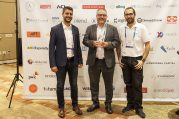 And this is where Lleida.net landed, along with its new US patent for Registered email to unveil Connectaclick. Connectaclick is an online contracting platform, to sign digital contracts easy, fast, and secure. We also presented Connectaclick APIs so that it could be within everyone's reach just by adding on their systems a few lines of code in the existing one.
And from the place where big IT ideas are born, we were awarded the Best Alumni award for the best case studies elected among all those previous FinDEVr attendees.
Hope you enjoy our 15 minutes on stage!