"Most African Cities have a fairly vibrant and well-structured mobile and  electronic infrastructure" Mr Giacomo Carlo Avondo Sirex Consortium Executive Chairman, explains.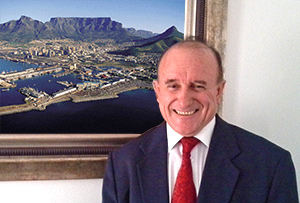 Lleida.net opens new office in Cape Town (South Africa) and will implement the Lleida.net services and products in seven other African countries, Swaziland, Lesotho, Botswana, Namibia, and Democratic Republic of Congo.
Our first steps in South Africa are taken along with Mr Giacomo Carlo Avondo, CEO from Sirex Consortium who knows the market and the needs and applicability of our services.
Sirex Consortium is a Group of companies offering specialised telecommunication services to business and organizations in Southern Africa, Australia and New Zealand.
Its Executive Chairman, Mr Giacomo Carlo Avondo, is a telecommunications business development professional with more than 20 years international experience.
Mr Avondo expertise incorporates inter alia, Value Added Network Services (VANS), branding, marketing and the development of greenfield business enterprise.
We talked to its CEO, Mr. Giacomo Carlo Avondo about the starting point and how both parties manage good expectations.
Question.-Why was the agreement signed?
Giacomo Carlo Avondo-. – An agreement was reached between the parties with the view to offer the Lleida.net Services to these countries, for mutual commercial benefits. – The main reason for targeting these countries is that we have existing business relationships and or business associates in these countries, who intend participating in the Lleida.net Services. The Lleida.net services in most cases transcend borders and or countries – electronic communications impact on the lives of people in all walks of life and business.
Q. – What are your expectations so far?
GCA. – Our expectations thus far are as anticipated, meaning that there is great interest in the Lleida.net Offerings. However, as with any such implementation there are questions and technical conditions to understand before implementing the Lleida.net products and services. With this in mind we have always planned to initially establish ourselves in South Africa, once fundamentals such as inter alia, the legal issues, are fully understood by our intended clients and they themselves are confident with such conditions, namely the Telecommunications Electronic Act 2002. We shall follow a similar strategy in the other countries.
Q. – Which are the priority sectors?
GCA.-The priority sectors are medium to large organisations such as insurance companies, banks, travel agents, businesses sending out regular invoices, legal and other correspondence to their clients, municipalities and booking organisations.
Q. – Which services or applications are going to be promoted?
GCA: – We shall promote all the Lleida.net Services, as each service would apply to a completely separate market base or industry. In some instances the same services could apply to all industries – this will to some extent also depend on the industry sectors that our marketing personnel have a background in.
Q. – Is there competence for Certification electronic Services?
GCA. – Certainly. Most African Cities have a fairly vibrant and well-structured mobile and electronic infrastructure. However, it is the outlying and rural areas of Africa as a whole which suffer from lack of infrastructure and connectivity. In many instances, it is in these areas where the cost for such services is too high for the local populations. These are not our target markets as far as Lleida.net is concerned.
Q. -Is there any legislation on the legal validity of electronic documents in the different African countries? Any particular jurisprudence or case study you would like to mention?
GCA – This is a question that is presently being attended to by at least four different legal consultants and or industry leaders. Thus far the Telecommunications Act 2002, Article 25 amongst others, clearly indicates that South Africa and most of the countries of the commonwealth are already signatories to the Electronic Communications Act. The Democratic Republic of Congo, being influenced by France, is therefore subject to European Community signatories and participation. We are considering our options in this regards. There are presently some high profile criminal matters before court as well as other commercial actions which involve banks and creditors that we intend to use as terms of reference. We are also researching cases studies which we could use as marketing tools.
Q.-Which of the eight countries has a more advanced law for the uses of this kind of solutions?
GCA – All these countries follow either Commonwealth Law and or in the case of the DRC and other French Speaking countries, they tend to lean towards France and therefore, EU legislations. We are currently investigating the conditions prevailing in the territories.
Q.-How contracts are usually signed?
GCA: – Here it is important to note that most countries with which we shall be dealing conduct business in similar fashion to the United Kingdom and therefore do not have the practise as in Spain, of using Notaries. On the other hand, the Portuguese countries such as Angola and Mozambique do follow similar practices as Spain. English speaking and previously colonial influenced countries, normally have template contracts for semi informal agreements. Naturally use will be made of the services of the legal fraternity as is the case in modern society worldwide.
Q. – How about the penetration of the Internet? Is it widely expanded?
GCA. – Most certainly. According to most industry leaders, Africa is expected to offer massive telecommunication opportunities for many years to come as Europe and America is already oversubscribed. With this in mind, the services of Lleida.net are surely going to be implemented in order to meet the expanding market demand, massive growth in business and the increased use of modern technologies. Africa has a Cellular usage of 650 million users more than either the EU or USA.
The penetration of the Internet in most major cities of Africa is very good. Companies are actually in most cases well served with Internet access.
The opening of Africa is an important step in the internationalization of Lleida.net. Expanding the number of offices to 13, Lleida, Madrid, London, Miami, San Francisco, Paris, New Delhi, Santiago de Chile, Bogotá, São Paulo, Tokyo, Santo Domingo and Cape Town.
11 Comments